Rapidly Aging Orange County
Like many communities in United States, Orange County is rapidly aging. In 2000, an estimated 9.9% of Orange County residents were aged 65 years and older. A decade later, in 2010, the county's residents aged 65 years and older had increased to 11.1% of the population. In 2020, it is projected that more than 14.0% of the Orange County population will belong to the 65 and older category. From 2000 to 2009, the State of California, Department of Finance estimated that persons over 65 years old in Orange County increased by 22.7%. Between 2010 and 2020, this population is estimated to grow by more than 40%.
Baby Boomers and Seniors in Orange County
This rapid aging of the population is due to people living longer and also to the oldest of the baby boom generation (those born between 1946 and 1964) turning 65 years old. This means that, unless we manage our physical and cognitive health proactively, there will be a greater need for caregiving services, health services, and social support, as well as increased need for public funding for health related services.

From 2013-2018, OC will experience the fastest population increase in persons over 65 years old even compared to that of California or of the United States. Such population shift will require a comprehensive community-wide approach to address brain health.
Since 2010, The Vital Brain Aging Program has been making a great impact in our community promoting brain health through (a) public and physician education, (b) self-assessment tools, (c) memory screening services, and (d) coordination of community resources and healthcare services as needed. The program and its components are consistent with the goals of the national strategy to combat Alzheimer's disease (lead by the Department of Health and Human Services) and the action items of the Healthy Brain Initiative (lead by the Alzheimer's Association and CDC).
(Data: Through June 2015)
Community Education
To date, over 7000 community members have attended the Vital Brain Aging Program's public lectures. Lecture topics have included:
Risk factor management to prevent or delay cognitive impairment
Recognizing early signs of cognitive impairment
Maintaining optimal brain health throughout life
Some of the lectures were offered in collaboration with the program's Community Affiliates to incorporate brain-stimulating workshops.
Self-Assessment Utilization
The program has educated the public through online self-assessment services. To date, 3,520 community members have used OCVBAP's online services to learn about their memory, depression, and risk factors for cognitive impairment. The OCVBAP website has attracted steady use by community members each year.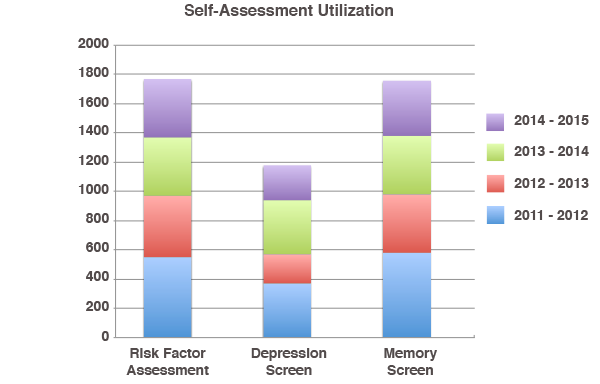 Memory Assessment Services
The program's in-person memory assessment service is provided at 5 assessment locations (Hoag Newport, Hoag Irvine, Oasis Senior Center, Hoag Medical Center at Huntington Beach, & Florence Sylvester Senior Center). To date, 3,835 assessments have been provided to community participants. Over 25% of participants were referred to the assessment service by their primary care physicians and this referral rate has increased steadily as OCVBAP's physician education and outreach efforts continue.
Cognitively normal individuals learn about maintaining their cognitive health through managing existing medical conditions, modifying their lifestyle, and engaging in regular physical, cognitive and social activity. When community members are identified with cognitive impairment, they are assisted in finding the right healthcare professionals to diagnose and treat the underlying cause and to manage the condition going forward. All participants are encouraged to monitor their memory annually after age 45.
Cognitive Assessment Participant Demographics
| | Male | Female | Total |
| --- | --- | --- | --- |
| # Assessment (%) | 1382 (36) | 2453 (64) | 3835 (100) |
| Age | 72.5 +/- 10.2 | 69.4 +/- 11.0 | 70.5 +/- 10.8 |
| % Impaired | 32 | 18 | 23 |
The program's effort to reach the at-risk population is evident: almost 25% of all participants were under 65 years old, and 38% were 65 to 74 years old.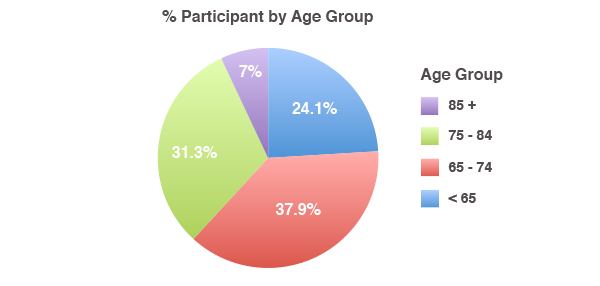 Among Orange County community participants in the OCVBAP cognitive assessment service, the rate of cognitive impairment was 23%, which is consistent with nationally published data in primary care settings. The prevalence of cognitive impairment increases with age.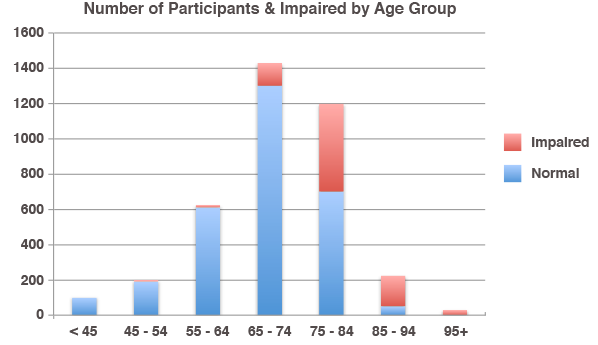 Physician Education
The program provides physician (e.g., MD, DO, NP, PA) education in the form of continuing medical education and case conferences. The education focuses on:
Identifying and managing risk factors for cognitive impairment
Recognizing early signs of memory loss and objectively assessing them
Differential diagnosis of different causes of cognitive impairment
Addressing non-clinical issues with patients such as driving
Incorporating non-clinical interventions such as community services for patient and family support
To date, we have provided over 50 courses educating 1,000 physicians in Orange County. Most attendees have been primary care physicians, who play a key role in managing cognitive health across the community population. The program also provides Guidelines, which were based on published best practices and refined by the program's expert panel.
Review by Outside Experts
The Vital Brain Aging Program subjects itself to an objective, annual review by outside experts in the area of cognitive health and healthcare policy. To date, the following experts have participated in a constructive review process for the program:
Zaven Khachaturian, Ph.D.
President of the Campaign to Prevent Alzheimer's Disease by 2020, (PAD 2020), and former director of the National Institute of Aging AD Research Consortium. His review helped OCVBAP launch a meaningful community program, and helped ensure that OCVBAP's mission and future efforts would be well aligned with the larger national effort.
Jeffery Cummings, M.D., Sc.D.
Director of the Cleveland Clinic Lou Ruvo Center for Brain Health, and former director of UCLA AD Research Center. Dr. Cummings reviewed OCVBAP's progress to date, and provided constructive feedback towards fulfilling program objectives and aligning cognitive healthcare delivery with national and international directives.
Ronald Peterson, M.D., Ph.D.
Director of the Mayo Clinic's Alzheimer's Disease Research Center, and Chairman of the National Alzheimer's Project Act (NAPA) non-federal advisory council. Dr. Petersen indicated that OCVBAP had implemented many of the planned initiatives described by the National Alzheimer's Project Act as part of a national strategy to prevent Alzheimer's Disease by the year 2025. Dr. Petersen suggested that the OCVBAP model should be replicated in aging communities throughout the USA, so that advances in treatment can be effectively delivered in the early stages of progressive memory disorders when the benefits to individuals, families and society are greatest.
A key element of the Orange County Vital Brain Aging Program is the coordination of community resources for optimal benefit. To that extent, we are working closely with these established organizations in the field.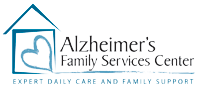 Alzheimer's Family Services Center, affiliated with the Hoag Neurosciences Institute, is the only day care facility in Orange County dedicated exclusively to the care of people with Alzheimer's or another dementia. Designed in collaboration with the Vital Brain Aging Program, its Mind Booster program is helping people with mild cognitive impairment to maintain their quality of life.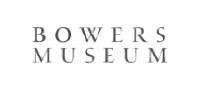 The Bower's Museum enriches lives through the world's finest arts and cultures. In collaboration with the Vital Brain Aging Program, the "Art of Healthy Aging" lecture series have hosted many discussions with artists and hands-on workshops to promote healthy brain aging.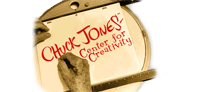 Chuck Jones Center for Creativity, dedicated to re-invigorating the creative spirit, envisions a world where creativity is known and experienced in every discipline, by the many, not just the few. In collaboration with the Vital Brain Aging Program, the center offers brain stimulating workshops for our community members.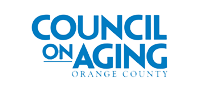 The Council on Aging-Orange County promotes the independence, health and dignity of older adults through compassion, education and advocacy. The council provides much needed resources to the participants at the Vital Brain Aging Program.