Educate Your Patients
Patients who are educated about the causes of memory loss, and who are aware of factors that impact the risk of cognitive decline, are more likely to raise timely concerns about their cognitive health. Therefore, well-educated patients are more likely to receive a high standard of care from your practice.
To address this opportunity, the Vital Brain Aging program offers free educational waiting room brochures for your practice. We encourage you to order Vital Brain Aging brochures and make them available to your patient population.
About Memory Loss brochure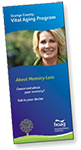 This educational brochure explains the many common causes of memory loss and emphasizes the importance of early intervention to optimize treatment efficacy, regardless of the cause of the memory loss. The purpose of this brochure is to encourage those patients in your waiting room, who have a memory concern, to express that concern during their visit.
Risk Factors for Memory Loss brochure
This brochure explains the many risk factors that affect the likelihood of memory loss and other cognitive impairments. It also describes strategies for managing and reducing those risks. The purpose of this brochure is to help those patients who are in good cognitive health to manage their risk factors and remain so.
Please request materials by email to or by calling us at 949-764-6288.